Buying an RV is a considerable expense, and the decision you make will directly affect the quality and course of your vacation. When deciding on a used camper, we should check the desired unit well, so that during our first trip it does not turn out that it generates more costs than it is worth. Wondering how to buy a used RV so you won't regret it? We can give you a hint of what to look for even before you decide to buy. We encourage you to read the article!
Used RVs for sale
Since we are buying an RV, it means that we have already learned the charms of traveling on four wheels, whether in rented caravans or using a friend's RV on a joint trip. Used RVs are, of course, cheaper than new ones, but it's still a pretty big expense. Besides, we should remember that it will be our home while we travel. We need to feel safe and comfortable in it.
Look at more info to learn more about RVs.
On the Internet, you are sure to find a whole lot of used RVs. Remember, however, that it is definitely not worth acting hastily in such a situation. Before making any decision, get well acquainted with various makes and models of RVs. Consider what you care about most. How many people will you be traveling with? How often? Do you need an integrated vehicle or one with an alcove? What interior layout would be most comfortable for you? It's a good idea to answer such questions even before you start your search. Why? Because then you will have clarified expectations and will not be tempted by the first better vehicle.
Keep in mind that used RVs, often already several years old, have interiors much less modernistic than those of today. This means not only that they need to be refreshed (and sometimes completely overhauled), but also that you will not be able to adapt the interior style to your lifestyle. This is why it is not worth making a hasty purchase decision. If it turns out that a particular interior style does not suit you at all, you will quickly begin to regret such a purchase! It's also worth asking around among camper friends if anyone has a similar model and would be willing to lend it to you for a weekend. That way you could actually see if the model would be suitable.
What to look for when buying?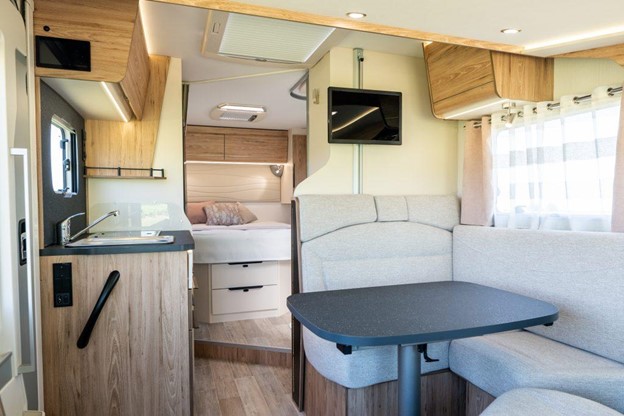 When buying an RV second-hand, we should pay attention first of all to the car's documents, try to conduct a general inspection, and arrange a test drive. Before driving, we should weigh the car without any load. Why? Every motorhome has a permissible total weight of the vehicle written in the documents. It is worth making sure how much it is and what options it leaves you with in terms of packing before your vacation. The weight can depend on, among other things, what type of camper you are dealing with. Integrated campers tend to be heavier than alcove or semi-integrated ones, for example, not to mention camper vans.
Before buying an RV, it's a good idea to schedule an appointment with an auto mechanic or an RV service person. A specialist will assess which components need possible repair and indicate the initial cost of such measures. This will give you a better picture of how much money you will actually have to spend on the RV. This is a good time to compare prices with new RVs. Perhaps the price of £20,000 for a used vehicle sounds quite attractive, but if it turns out that repairs will cost at least a second as much, the offer is no longer so attractive. A meeting with a specialist is therefore an absolute must.
It is also essential to inspect the exterior plating before deciding to buy. Check if there are no traces of rust somewhere and if the tightness of roofs and windows is flawless. Inspection of the sheathing is very important – a leaky camper will collect moisture, which creates an ideal environment for mold growth. Such a camper is definitely unusable, and the price of refreshing it may completely outweigh its value.
It's also good practice to make an appointment to view the RV after it has rained (although simply dousing it with water is also an option). This will allow you to quickly check the vehicle for leaks. If you notice stains or leaking water inside, abandon the purchase. Tightness is an absolute must. It would be difficult to imagine a comfortable vacation if the vehicle is constantly wet and cold.
Of course, it is also very important to check the entire interior. Is the kitchen suitable for slightly more modernistic conditions? Does it have a gas stove and refrigerator? If not – add the purchase of such items to the cost. Does the living area need to have its upholstery replaced? Doesn't the floor need to be refreshed? Take a close look at it. You may find that it sags when you walk on it. This is a bad sign and usually means that the camper's plywood has faded and needs to be repaired, which, by the way, is connected with considerable costs. Don't new mattresses need to be purchased for the beds? Does the bathroom have all the necessary elements, i.e. toilet, shower, sink? Check each element carefully and write down everything that would need possible repair. Then summarize the costs.
When you meet with the owner of the RV to view the vehicle, check to see if the engine is overheated. If it is, perhaps the person selling the vehicle is trying to hide some defects. A cold engine can tell us a lot about the condition of the vehicle, while an already warmed-up car will not give us full information about, for example, cylinder problems, timing chain wear, or piston knocking. So if a person does not want to show you a camper with a cold engine, abandon the purchase. It's not worth the risk and spending a dozen (if not tens of thousands) thousands to repair the mechanisms.
General advice – how to buy a used RV?
When choosing a used camper, it's best if it's a car of a well-known brand, e.g. Dethleffs, Pilote, Bavaria, weighing up to 3.5 tons – we only need a category B driver's license to drive it. When making a decision, remember not to rush! It's better to look at an RV several times than to hastily make a decision with which we will not necessarily be satisfied.
It is worth noting that used RVs for about 4000$ usually require a major overhaul. A safer option is to buy one for, say, 12-13000 dollars, although of course, you should still inspect the car carefully. For people who are looking for a relatively cheap vehicle, such a price for a used car can already be highly discouraging. For a similar amount, you can get a new caravan of really good quality, such as the Hobby brand. However, it is known that not everyone is interested in buying a caravan.
There is no denying that a car with a trailer has less maneuverability and usually requires some experience from the driver in order not to cause danger on the road. Campers in terms of maneuverability are a much easier option, despite the fact that they are also a sizable vehicles. So if you don't want to buy a caravan, then you have to expect to pay quite a bit for a used camper as well. Rather not as much as for a new one, but including in the cost of purchase all the necessary repairs or camping accessories that you need to buy, you will definitely have to reckon with a specific sum.
It is also worthwhile to match the type of camper to your travel style. If you often travel through cities where there is no shortage of tunnels, then you need to be wary of alcove or semi-integrated vehicles. They are quite tall and can easily snag a tunnel, which will end up severely damaging the RV. In such a situation, integrated vehicles are definitely better. If, on the other hand, you often travel in winter, it is worth investing in RVs with additional insulation to prevent heat loss. Unfortunately, such RVs are usually newer models, so finding a used RV with really good insulation and at an affordable price can be quite a difficult task.
It's also a good idea to look into air conditioning (and if you don't have it – add that to the cost!). Many people ignore its annual cleaning, which is very conducive to fungal growth and dangerous to health. If you see any signs of mold on the walls or feel the stuffiness and unpleasant odor, then most likely the vehicle was not well protected against fungal growth. In such a situation, we also suggest you abandon the purchase.