Summer days have arrived, full of sunshine… Great? For your garden, not necessarily. Long days without rain are a challenge for plants. How do cope with the drought? Use tried-and-true ways to protect your lawn, flowers, and plants.
If your garden dries out in the summer, you've certainly developed ways to water your garden. Maybe you've set up a rainwater tank and collected water there for watering, or you're trying to grow drought-tolerant plants – such as mullein and thyme? But if you're a novice gardener, or if you're looking for tips and new information, here are tips to get your garden through the tough times unscathed.
More helpful tips are on this page.
Get to know your garden
First and foremost, determine which plants in your garden need the most water. This will help you determine watering methods and times.
Seedlings, saplings, and young plants should be watered regularly.
Divide other plants into those that need to be watered daily and those that can be watered every few days.
Water your plants thoroughly during the hottest weather, making sure the water reaches the roots.
Remember not to water plants in full sun – this should be done in the evening or early morning.
Older shrubs and trees do not need to be watered as often, but if the drought persists for a long time, they too will need water.
A shriveled lawn?
Lack of water and scorching sun can turn even the most beautiful green lawns into dry and unsightly stretches. If your lawn starts to dry out, you don't have to worry right away. Any lawn with a healthy root system will turn green again as soon as the rain falls. If that's not enough, you can try some proven ways.
Of course, it's best not to let this condition happen. What can you do to make your grass more likely to survive the hot weather?
Water it regularly during the summer months.
Always water your lawn early in the morning, because then the water will have time to reach the deeper layers of the soil and will not evaporate as quickly in the scorching sun.
Mowing and mulching are key, a procedure that enriches the lawn with valuable nutrients (the finely ground swath, decomposes and serves as a natural fertilizer). So it's worth betting on properly selected, durable garden machines that will mow and mulch at the same time, such as those from the ePower series.
These include:
Aero 132e;
Combi 340e 4Ah;
Multiclip 547e S 2x4Ah;
Combi 748e V;
Twinclip 950e V.
Simply select a machine for the size of your garden based on the size of the working area, that is, the maximum area you will mow on a single battery charge. In the case of STIGA machines, the area ranges from 100 m² to as much as 1,100 m² on a single charge.  Therefore, consider which one will work best for your garden.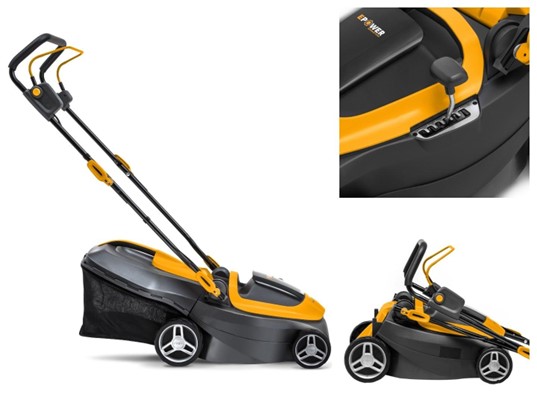 Don't forget to weed regularly
Weeds are a nuisance during a drought when your garden especially needs water and nutrients.  That's why getting rid of weeds regularly is the best way to help ornamental plants and crops survive this difficult time.
Prepare your garden for the vacations
If your dream vacation is approaching, there are a few things you can do to protect your garden before you leave:
Mow your lawn to encourage grass growth. However, during the summer months, do not mow at the lowest level because this can dry out the grass. If high temperatures don't encourage you to work in the garden, you can use a machine to do it for you. Unrealistic? As real as possible, if you get a Stig mowing robot – an intelligent tool that will take care of your lawn while you rest in peace.
Harvest vegetables and fruits before they dry out and overripe, taking care to store them properly.
Water the garden thoroughly.
If you will be gone for more than a week, arrange with someone close to you to water the garden while you are away. A good way to conveniently water your lawn is also to install an irrigation system, preferably in the form of sprinklers and drip lines, whose work you plan in advance.
Get ready for next year
Regular periods of drought are always a challenge, even for experienced gardeners. However, there are several ways to prepare and not be caught off guard. Here they are:
Mulch with organic matter (such as homemade compost, bark, or leaves). Spread the organic layer around fruit trees, shrubs, perennials, under hedges, and around spring bulbs. This treatment slows the evaporation of water from the soil.
Mulching is an eco-fertilization of the lawn, which will make the blades stronger. This will help it survive in times of drought.
The summer sun can be a challenge for the plants in your garden, but if you take care of them regularly, remembering key maintenance and watering, they should survive without harm. Good luck!