An organization chart is a diagram that shows the structure of an entire company or corporation. It can be detailed enough to show individual employee titles, responsibilities, and workflow. The most commonly used organizational charts are flowcharts, however, there are many other types including org charts with pictures, logos, or little icons showing different job roles in a company.
Organizational charts are used for a variety of different reasons, but the most common use is to outline the reporting structure in an organization. Typically, the chart will show which individual reports to which manager or supervisor and how each job role relates to other roles within the company. Large companies might have several iterations of organizational charts available for different purposes whereas small companies may just build one large comprehensive chart that covers all employees. The main reason for creating an organizational chart is so that managers and supervisors can see clearly at any given time who reports to them and what their job function is within the company. Organizational charts are often built by management so they can provide oversight on their subordinates, including on their annual report, and increase transparency between upper-level management and lower-level employees, and so upper-level management can determine where best to put their resources.
Company Organizational Chart For Employees
The main purpose of an organizational chart is to outline who reports to whom within the company, but there are many other uses for these charts as well. For example, if employees become lost or confused about what they should be doing at work, showing them where they fit into the company and what kind of tasks they typically complete will help them reorient themselves with the company's goals and expectations. Organizational charts also make it easier for people outside the company (e.g., customers) to understand how a business operates which can ultimately increase customer satisfaction.
When creating organizational charts, taking off employee preferences such as gender, race, religion, etc., is becoming more popular because it helps market a company as more inclusive and diverse. An organizational chart is typically accompanied by a job description that outlines the responsibilities, tasks, and frequency of each employee within an organization. Org charts are often built-in software programs because they allow users to easily organize diagrams with labels and connectors without having to manually draw everything out on paper. You can also check out Venngage for they offer various organizational chart templates!
Venngage
Business Organizational Chart For Customer Support
In this day and age where most companies have at least some kind of online presence, organizational charts can also help if your company ever wants to expand its web presence; this is particularly important if your business wishes to launch an e-commerce store or other website where customers can purchase goods or services directly the company. It will be critical to have an accurate organizational chart so your customer support department is able to answer any questions regarding the structure of your company.
Flexibility Of An Organizational Chart Maker
Organizational charts should never include more than 7 levels deep (i.e., top management), according to Bullhorn Inc. The perfect organizational chart is accurate, easy-to-understand, flexible enough so changes can be made easily, and aesthetically pleasing. While building an organizational chart, always remember it's meant to be functional so the most important aspects should be presented first (e.g., reporting relationships) rather than aesthetics which can show up last after all of the information has been inputted.
Various Templates For An Organizational Chart
There are many different styles and types of organizational charts, but one of the most common is the flowchart organizational chart. Flowcharts are generally the simplest version of org charts because they show only top-level employees (e.g., CEO, COO) and their immediate subordinates (e.g., vice presidents). Another type of org chart is a ladder diagram that shows how employees in each job role can advance in the organization by climbing up rungs on a career ladder; however this type of graph typically only works well for companies with few levels or where everyone starts at entry-level jobs.
The third type of organizational chart is called a stacked graph, which shows employees as rectangles and the managerial hierarchy as arrows; this allows for several layers of managers to be shown at one time. Stacked graphs are great for large organizations with many levels but they can get very busy particularly when everyone has several direct reports (e.g., vice president 1 has three vice presidents reporting to them, who each have five vice presidents reporting to them) because it will be hard to see where each employee fits into the big picture.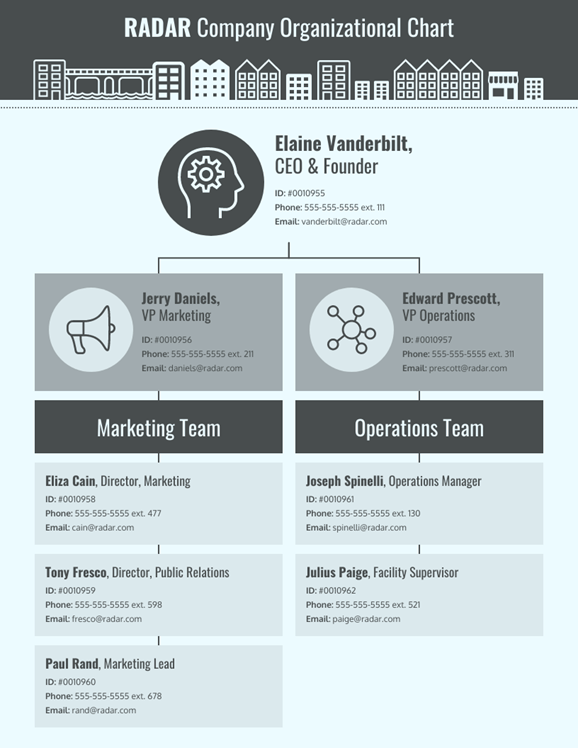 Venngage
Conclusion
An organizational chart can be used as a source of information for employees, HR professionals, and managers alike. It should include the names and titles of each employee in their respective departments. This way, if there's ever an issue with communication or collaboration within your company, the answer could potentially already be on the organization chart! The first step towards creating an organizational chart is understanding what type you'll need: functional (departmental) or geographic (geographical). A functional organizational chart focuses on what needs to get done by who; this kind of structure is great when you're looking at reorganizing your team around specific goals.