Unique Gifts for Hunters and Fishermen in 2022
Fall came, and soon 2022 will be the past. However, we still have plenty of time to enjoy the delights of nature. Cooler temperatures prompt some fish species to be more active at the water surface, which offers new opportunities to passionate anglers. On the other hand, avid hunters enjoy the start of deer hunting season, which they've eagerly awaited since winter.
Gritr Outdoors, offering a wide range of hunting supplies and fishing gear, knows firsthand how gear-intensive these hobbies are – the equipment can number in hundreds. So, your friend or relative will be happy if you help them prepare for the upcoming trips.
In this article, Gritr Outdoors provides some suggestions on what you can give as a gift to your dearest passionate about hunting or fishing.
Universal Gifts for Hunters and Anglers
Sunglasses
Yes, let's start with something more common yet often overlooked. A pair of high-quality sunglasses will be an asset in the gear collection of both hunters and anglers. Though the fundamental purpose of glasses is to protect the eyes from harmful UV rays, it is even better when they have activity-specific features.
Let's talk about the protective side of sunglasses. The best general-purpose glasses filter 100% of UVA and UVB, but some manufacturers go further. For example, Oakley manufactures sunglasses with its proprietary Plutonite lenses that block all UVA, UVB, UVC, and even harmful blue light up to 400mm.
Now, what are these activity-specific features? If your friend or relative is more into fishing, a pair of glasses with gray polarized lenses is a go-to. Polarization removes glare and allows you to see farther down the surface. Hunters will appreciate ANSI-rated safety-approved sunglasses. The best shooting glasses withstand high-velocity, high-mass impacts.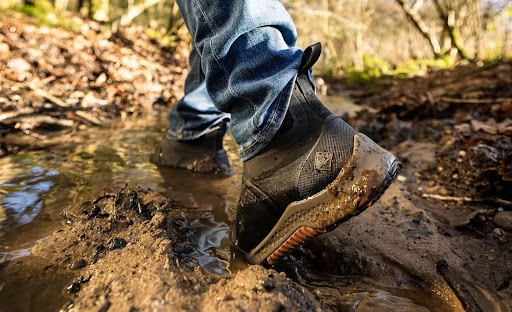 Muck Boots
The Muck Boot Company entered the market for 100% waterproof footwear in the late 90s, and its high-quality, comfortable boots quickly gained popularity with the rural community and outdoor enthusiasts. A dependable construction consisting of a neoprene bootie covered with rubber overlays contributed to Muck boots becoming a generic term for waterproof boots.
Muck Boot offers a variety of boot designs, from tall boots, such as the Chore, the Wetland, and the Arctic Pro, to the mid-length Apex boots, to the waterproof sneakers from the Outscape series.
Ice anglers will be all crazy about the Arctic Pro boots. They are a great ice fishing gift that will keep the feet warm at -60°F and provide superior traction. Tall Muck boots with Realtree camo patterns will be the best gift for a duck hunter.
Wool Socks
There's no point at which wool socks are enough – they are always a great gift, not just because they are warm. Wool has several more qualities that make it a go-to material for sock-building. First of all, it effectively wicks moisture. Though many other materials also do a pretty good job at moisture management, they are mostly synthetic, while wool provides next-to-skin comfort. Wool is also odor- and sweat-resistant, helping hunters hide from the noses of game animals with a superior sense of smell.
Wool socks are recommended for wearing with waterproof footwear for effective sweat management.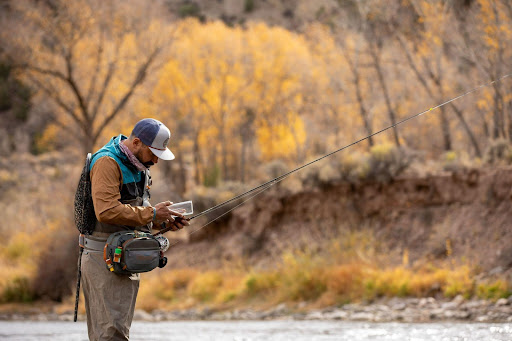 Bag
Even if your friend or relative already has a bag, another one definitely won't go amiss. First, a new bag may employ more pockets and compartments, increasing the overall capacity. Second, it may have a bit more specialized application. For example, if the hunter in your life hunts waterfowl, they probably use a hunting blind. In this case, you may consider buying a blind bag. If your friend is into fly fishing, he or she will appreciate a quality wading bag with welded seams and a waterproof zipper for 100% leak-proofing. Anyway, just observe your dearest and try to guess what features his or her current bag misses. 
Rain Gear
Rain gear is a great gift idea for a hunter or angler. A system consisting of a rain jacket and water-resistant pants will protect them when the sky unexpectedly pours down with rain. Though rain gear often makes a list of must-haves, many outdoor enthusiasts neglect or forget about it.
When searching for water-resistant clothing, pay attention to the fabric and membranes. Polyester is considered the best material since it's naturally hygroscopic and dries quickly. Also, look for water-resistant, breathable membranes such as Gore-Tex used in Sitka hunting apparel.
Gifts For Hunters 
Electronic Ear Protection
It's one of the best gifts for hunters. If an avid hunter in your life hunts with a firearm, electronic ear muffs or buds will be an asset. Many people usually don't care enough about the health of their ears until it's too late. But they definitely should, and you can help with it. The noise level of a firearm shot ranges from 150dB to 170dB, surpassing the pain threshold of 140dB several times, accounting that the sound energy doubles every 3dB. Ear protection helps to reduce the noise level.
Now, why electronic? The thing is that passive protection isn't flexible enough to provide comfort when the user doesn't shoot, which is a fair share of time. Electronic earmuffs and earbuds compress loud gun firing noise while allowing all ambient noises as they are or even enhanced. You may use Walker's ear protection as a starting point.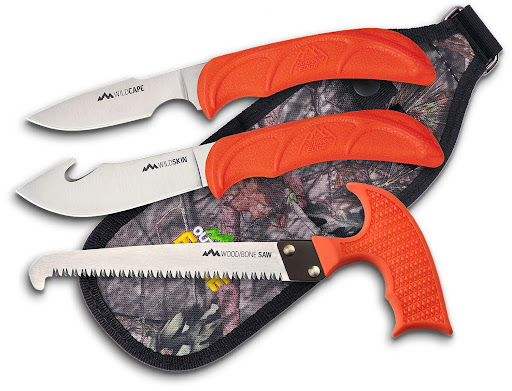 Field Dressing Kit
This hunting gift is for deer harvesters. You may buy a self-contained kit incorporating every tool a hunter needs to break up a deer, or you can purchase separate tools and build a kit of your own. A good field-dressing kit should have a drop-point caping knife, a knife with a gut hook, a bone saw, a sharpener, rubber gloves, and game bags. Put everything in a waterproof, easy-to-clean bag, and your deer hunting gift is ready.
Gifts for Fishermen
Tackle Box
If you're not an angler yourself, you may not know that tackle boxes are always in demand. The logic here is the same as with bags – the angler in your life may have a damaged tackle box, or their lure collection may outgrow the capacity of their tackle box. Whatever the situation, a tackle box made from rugged plastic and having a sufficient number of compartments is one of the best gifts for fishermen.
Fishing Waders
If you know your friend or relative is into fly fishing, a pair of waders will be the best fly fishing gift. High-quality waders can cost a lot, so if you give them as a gift, the gesture will show your affection in the best way possible. Consider the style of the wader in question. Chest waders are great for angling in deep water while fishing small creeks can be done in waist waders or hip wading boots. When choosing between neoprene and polyester waders, go with neoprene if most of the fishing takes place during cooler temperatures.
Final Words
We know that choosing a gift can be daunting, especially if you're clueless about what gear exactly the angler or hunter in your life already owns and what they would like to have. However, don't lose heart. You can use ideas from our list – we think they are pretty universal. Or you can visit Gritr Outdoor and look for the best fishing and hunting gifts for yourself. Maybe your important person dreams about quality binoculars or any other optics? Or they've mentioned something about game calls? Lighting equipment? Just don't be shy to explore, and you'll find it.